March 2, 2023
What Is Live Chat: A Comprehensive Guide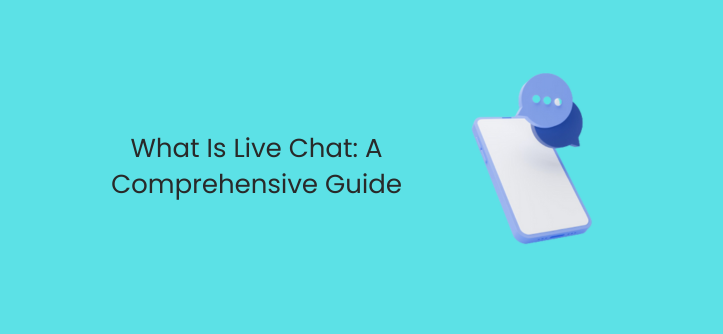 Live chat has become an essential element for business, especially when it comes to customer service and engagement strategies.
In fact, a survey conducted by HubSpot showed that 47% of customers said they're more interested in buying products if they use a chatbot.
However, many people still don't know how to use this tool or all the benefits it offers. Fortunately, you can find all the information you need here.
With this comprehensive guide, we'll help you learn about live chat, how it works, and the benefits it can bring to your business. Do you want to find out if this is the tool you need to succeed? Read on!
What Is Live Chat?
Live chat is a customer messaging software alternative that companies can use to connect their representatives with their customers. Overall, this tool is used to provide technical support, but it has many purposes.
This messaging system works like a pop-up, live chat box, or window on a company's website.
In other words, when entering businesses' websites with a live chat plugin, visitors can view the window and start speaking with the companies' representatives to get more information about their products or ask for help solving specific issues.
Sometimes, if there's a live chat widget for a website, the chat box pops up as soon as users open the home page. In other cases, customers must execute an action to start these online chat features.
However, in both scenarios, the benefits are the same. Businesses can leverage live chatting as a key customer messaging software element to build a strong relationship with their customers and optimize their SaaS structure.
In addition, through a live chat app, companies can answer customers' questions or give them key information, meeting their demands and guaranteeing that they live an enjoyable customer experience.
Most live chat apps have features like notifications, custom channels, and pre-prepared messages. However, other alternatives have different and innovative features, like Chaty, a chat widget that can connect with over 20 social media platforms, including WhatsApp, Telegram, and Facebook Messenger. It also has an intuitive, easy-to-use, and customizable UI that most business owners will love.
How Does Live Chat Work?
Live chat apps usually have chat boxes where online or live chatting happens. As mentioned, as soon as they open your website, they see a live chat widget in a corner. After that, when they click it, the chat box pops up.
However, visitors and business owners have different views when using a live chat app. Customers, for example, see a chat box with a blank space where they can type a message or attach a file. Some will also be able to send images, links, or emojis.
In contrast, the business owner or chat operator can see more tools because they have more power over the live chat app.
Overall, during the chatting process, chat operators or business owners can do the following:
View different analytics on their dashboards
Track visitors and customers
See how visitors and customers browse the website or how long they are there
See what visitors type in the chat box
Create canned responses
Integrate live chat app with other platforms to optimize workflow
Ban visitors
Ask for feedback and ratings
Assign operators to individual chats
View chat history
Download chat transcripts
Use mobile live chats app to stay connected with your customers on the go
How Can You Help Businesses?
If you have live chat on your website, you can increase your sales and engagement. Another survey showed that 79% of customers prefer live chat over any other communication channel.
Besides being a sophisticated tool you can leverage to connect with your customers, a live chat app is also a multipurpose widget that can help you automate some processes.
No matter the type of business you run, live chatting can help you save time and money while boosting your marketing efforts and building strong relationships with your customers.
If a person buys a product but is having trouble using it, offering them a communication channel to speak to your company's representatives can be a game changer.
Through a chatbot, customers can ask all the questions in their minds and try to gather information about your product so they can use it properly. If you provide assistance and all the details they need to do so, you'll be building a strong relationship with them.
Also, those customers who feel connected to your company and know they can get solutions if they contact you will develop more loyalty toward your business or brand.
Connecting with your customers directly through a live chat app can also help customers have a better perception of your brand and trust what you offer.
In addition, a chatbot can help you increase sales by generating high-quality leads, allowing you to offer optimal customer service and enhance your operations.
What Are the Features of Live Chat?
Depending on the live chat software you choose, you can leverage different features. Most have common elements, including the following:
Quick responses: You can create canned messages or reply to a user's message in just seconds.
Multiple customer handling: You can schedule instant answers to manage multiple requests at the same time.
Analytics: It's the best way to see if your efforts are paying off.
Data security: Most live chat apps come with security features to protect your privacy and personal information.
Omnichannel messaging support: It's key if you want to provide a uniform experience to your customers or deliver better solutions.
Live chat handover: With this tool, you can give your customers the opportunity to speak with a live agent when they have to solve a complex or urgent issue.
Additionally, most chatbots have visual flow builders, artificial intelligence (AI) options, chatbot API, and sentiment analytics.
However, as mentioned, some live chat apps offer many more features. Chaty, for example, allows operators to create and customize present WhatsApp messages.
In addition, Chaty has other interesting uses that can greatly benefit companies, including support in different countries and business hours and off-hour operations.
Benefits of Live Chat for Businesses
As you can see, a live chat app offers many benefits to all types of businesses. These are some of the main ones:
Increased Customer Satisfaction
A chatbot allows your customers to speak directly with your company's representatives and get solutions to common problems they may face.
In addition, live chat apps can help you automate certain processes, considerably improving customer service and experience.
Higher Efficiency and Productivity
Through automation, customization, and the different tools chatbots offer, you can optimize your business operations and improve your productivity. Moreover, you can increase your sales and generate more leads.
Cost-effective Solution
Most chatbots are affordable, so adding a live chat plugin to your website can be a cost-effective way to better connect with your audience, increase your productivity, and collect key data.
Competitive Advantage
A live chat plugin can also give you an advantage over your competitors, as it allows you to get to know your audience better and stay up to date with technological and customer service trends.
Collecting Customer Data
Chatbots are also great for collecting data. Besides seeing what visitors type in the chat box, you can also get sentiment analytics and directly interact with your customers to find out their needs and doubts.
Best Practices for Using Live Chat on Websites
Now that you know more about live chat apps and how they can benefit your business, are you ready to leverage this tool and get the most out of it? These are the best practices to consider:
Live chat widget placement for an easy and direct way to connect with your customers
Use proactive chat invitations to assist your website's visitors at each customer journey stage
Quick response time to provide prompt solutions to your customers' problems
Offer personalized and helpful responses to build better relationships with your visitors
Train chat agents appropriately to optimize your business operations
Use chatbots for basic inquiries and collect data at the same time
Make the chat window mobile-friendly to chat with your customers on the go
Offer chat support during convenient hours and potential solutions during off-hours
Monitor and analyze chat data to improve performance and enhance your business's operations for better results
Provide an option to email or leave a message if the chat is offline, allowing your customers to create a strong bond with you and feel that you really care about them
Final Thoughts
As you can see, a live chat app can bring many benefits to your business. However, if you want to use this tool and enjoy all those advantages, you must make a wise decision.
Choosing the right live chat software is as important as knowing how to use this communication solution for your business. Therefore, before picking one, you should analyze its features and determine if they can really support your company's operations.
Related Content