March 13, 2023
12 Live Chat Techniques to Keep Your Customers Engaged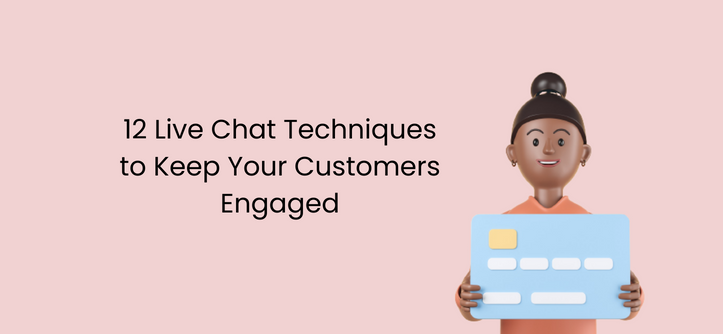 Most businesses have an online store, and now it's easier for customers to contact them through a live chat on a website or a chatbot.
With online stores, we got canned responses and live chat apps. Those tools help us communicate with all our customers faster without spending money on more workers, but you need to know how to use them correctly to keep them from causing the opposite effect.
As it happens with physical stores, you don't know how much time customers will stay on your website, so you need to do what you can to keep them engaged at all times. There are many ways to do that, but we are here to focus on how to do that with the help of live chat techniques.
Dive into this page to know 12 live chat techniques to keep your customers engaged!
1. Personalize the Conversation
One of the main struggles businesses go through when using canned responses for their customer service team is they don't know how to personalize their user's experience. People like to build a close connection with the business they are talking to, but they can't if all they get is robotic responses.
You need to make sure your customers feel like they are talking to your company and not just some bot. Use customer data to personalize your live chat conversation with your clients!
If you are using canned responses, try to always use their names and reference the specific problem they are talking about.
2. Use Proactive Chat Invitations
It's not uncommon to see almost all websites use a live chat app to communicate with their customers. Those apps leave a chatbot, often in the lower zone of a page, for people to click anytime they have a question. However, you can invite people to use that chatbox to let them know it's available.
Chat invitations are often similar to popups, so you can see them that way. If you want to keep people engaged, try to make proactive invitations.
Using customer data, measure the right time to trigger that invitation and write an engaging message to encourage customers to either keep checking your website or talk to you through the live chat app.
You can create multiple proactive chat invitations for different groups of customers or even make them in different languages. Many live chat platforms offer these invitations as a special feature.
3. Chatbots
Although we've already talked about chatbots on this page, it's impossible to not make a whole section about them due to all the benefits they offer.
How can chatbots keep customers engaged?
They mainly do it by increasing your customer service team's response time, which allows clients to address their concerns and go back to what they were doing almost instantly.
Let's say they need to know the price of a specific product to buy it. If you answer quickly, they will buy it. Otherwise, they'll go to a website that takes less time to respond before you even answer their question.
We recommend you customize your chatbot's responses to have a conversational tone and integrate it with other eCommerce tools.
4. Use Visual Aids
It's always easier to sell something or at least catch people's attention with visual aids. Not everyone will stay on your website to read a large test, but they will understand what they see in a picture as soon as you show it. You can use this to your advantage.
You can use many visual aids in a live chat. If you add some pictures to your answer, it may even be easier for them to understand what you or your chatbot wants to say.
5. Offer Incentives
Sometimes, the only thing you need to do to keep people on your website is to offer something to them. Many businesses are hesitant to offer discount codes, free trials, or special promotions because they think that will make them lose their money, but it could actually cause the opposite effect.
Do you have any special deals to offer? This is the time to do it. The best way to show your deals and promotions is through popups. There are many WordPress plugins that help you design popups or use custom templates.
You can decide what triggers those popups, what they show, and even track their progress and how customers interact with them.
6. Use Humor
Although this depends on your target audience, humor is an excellent way of getting to more people. When you build an online persona that connects with young people and adults alike, it's difficult for your competitors to outsell you.
Regardless of that, being funny doesn't mean being inappropriate. You need to understand the audience you want to engage with and analyze what type of humor is better to approach them.
Since you are using canned responses for common questions, you can set some jokes for your chatbot to say when they receive those questions. If they make your customers laugh, that's a win.
You can also train your customer service team to make jokes after gathering user data. Doing that will make the conversation smoother and more enjoyable for your clients.
7. Follow-Up After the Chat
Customers love it when companies care about them, so you have to do what you can to build client loyalty. How can you show your clients you see them as more than just mere clients? Follow up after you address their concerns.
You can send a personalized message after answering their questions to offer them a special deal or let them know something you think they will like about your business according to the data you have on them.
Customer support teams can even program chatbots to offer additional help after solving the problem clients approached them for.
8. Focus on Speed
Speed is one of the main essentials of digital marketing and live chat on website services.
People often have many things to do or just spend a few minutes looking for what they want online, so you have to address any problem they have as fast as you can to keep them from leaving. If you take more than a few minutes to answer, they'll look for someone who doesn't.
Small businesses struggling to reduce their response time can hire more agents for their customer support team! However, if your company keeps growing, there may be a day when hiring more people won't be as affordable anymore.
When people use canned responses, clients can answer any small question they have in a matter of seconds and go on with their customer journey.
9. Use Social Proof
There are many scam websites online, so people are always scared to invest in something they won't get. Even if you are a legit business, you now need to prove you are. You can do that by showing social proof on your website.
That will make customers feel safe while looking at what your company offers. Most companies have testimonials and customer reviews on their website, and some even show you the famous brands or companies they have worked with before.
10. Be Transparent
People don't like it when you lie to them, so be as transparent as you can when talking to them. It's better to tell them the truth, even if it means saying something negative, rather than losing the trust users have in you.
Set your customer's expectations as soon as they approach you and tell them everything you have available.
Is a customer complaining about something your workers did? Admit your mistakes and let them know you are working to keep those issues from happening again.
11. Train Your Agents
Although many businesses take them for granted, customer support teams are one of the most important parts of a company. They are your company's voice when clients have a problem, so you need to train your support agents to be friendly and engaging.
Give your agents optimized scripts and tell them to learn them before they start working. You can even undergo role-playing exercises to measure how they will do when they start talking to clients.
12. Segment Your Audience
The last tip to keep your customers engaged on this list is to segment your audience. This is one of the first steps companies take during their branding process, and it's a must when investing in digital marketing.
Digital strategies for young adults won't work that well for the elderly, and the same happens when you sell your products to different countries or social groups.
Use customer data to know what appeals to your target audience the most. You can even conduct surveys or hire an eCommerce business to do this.
Campaigns that follow customer segmentations have an additional 14.31% in open rates compared to non-segmented marketing strategies.
Bottom Line
Although we showed these tips as individual things, they all work together to boost your sales and make customers more comfortable while looking for something on your website or asking something to a live chat app.
Summarizing it all, you have to:
Target your audience.
Use chatbots.
Personalize canned responses.
Answer fast.
Train your customer support team.
Be transparent.
Use visual support.
Show proactive chat invitations.
Show social proof.
Be humorous.
Offer incentives.
Start applying these tips to your business now! The benefits you'll see in the long run will be more than worth it.
Related Content